Over the 7 year life of the web site, certain images have caught the imagination of the viewers more than others. Here are 10 of the most popular, based on number of viewings.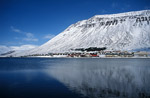 #1: Snowy ═safj÷r­ur


Camera: Canon Elan 7e, EF 28mm f2.8
A beautiful image on a beautiful day. Being up in ═safj÷r­ur is a distinct treat, and this particular day the wind was calm, the temperature was cold, and the snow from the previous night was perfect.




#2: Strokkur


Camera: Canon Elan 7e, EF 24mm f2.8, Fuji Superia 100
Visiting Strokkur is a lot of fun. Unfortunately my luck through the years of getting there on a pretty day has been very bad. This day broke the mold.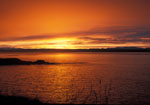 #3: Northern Winter Sunset


Camera: Canon Elan 7e, EF 28mm f2.8, Fuji Velvia 50
Sunrise and sunset in Iceland is spectacular. In the case of this image, it was at about 3pm.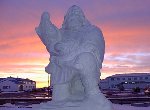 #4: Hrafna-Flˇki standing watch


Camera: Olympus D-220L
This is among my favorite pictures as well, but also is maddening. I ran out of film before I took it so the D-220L shot is the only one I have. The colors are pretty much as I saw them and demonstrates how beautiful sunsets can be in Iceland in the late winter/early spring.




#5: Inside HallgrÝmskirkja


Camera: Olympus D-220L
This is another shot that I need to go back and reshoot. The Neo-Gothic look of the cathedral is awesome and I'm pretty sure that with my newer equipment I can make a much better image than this one. Still a pretty image, but...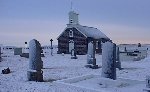 #6: Innri-Njar­vÝrkurkirkja


Camera: Olympus D-220L
I love this image, but the camera did a poor job of capturing some of the nuances of the lighting.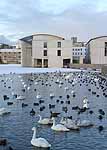 #7: Tj÷rnin, Swans, and City Hall


Camera: Canon EOS 10D, EF 35mm f2.0
This is a reshoot of an image I did in the late 90's. It still amazes me that in freezing weather the birds continue to flock to and swim in the Tj÷rnin.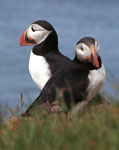 #8: Puffin Pair


Camera: Canon Elan 7e, EF 75-300mm USM, Kodak Supra 100
I probably have 300-400 images of puffin on film and in digital format, but this one is my favorite of them all. This was shot at Lßtrabjarg towards 10am, and this pair decided that it took 4 eyes to keep watch on this crazy photographer.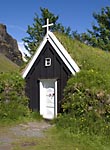 #9: Turf Church at N˙pssta­ur


Camera: Canon EOS 10D, EF 24mm f2.8
This was an image that I've wanted to redo for quite a while. I had taken an image of this church back in 1999, but at the time the only lens I had for my Canon AE-1 was the stock 50mm f1.8 and it was not wide enough to do the church justice. I had better luck this time.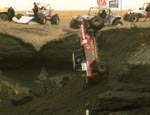 #10: Icelandic 4x4 Racing


Camera: Canon Elan 7e, EF 75-300 USM lens, Fuji Superia 400
One of my biggest regrets is that I've only made it to these races twice. It was a lot of fun for not a lot of money. On this particular day, on this particular run, the driver managed to go beyond vertical, yet still was able to get it back. One heck of a driving performance.